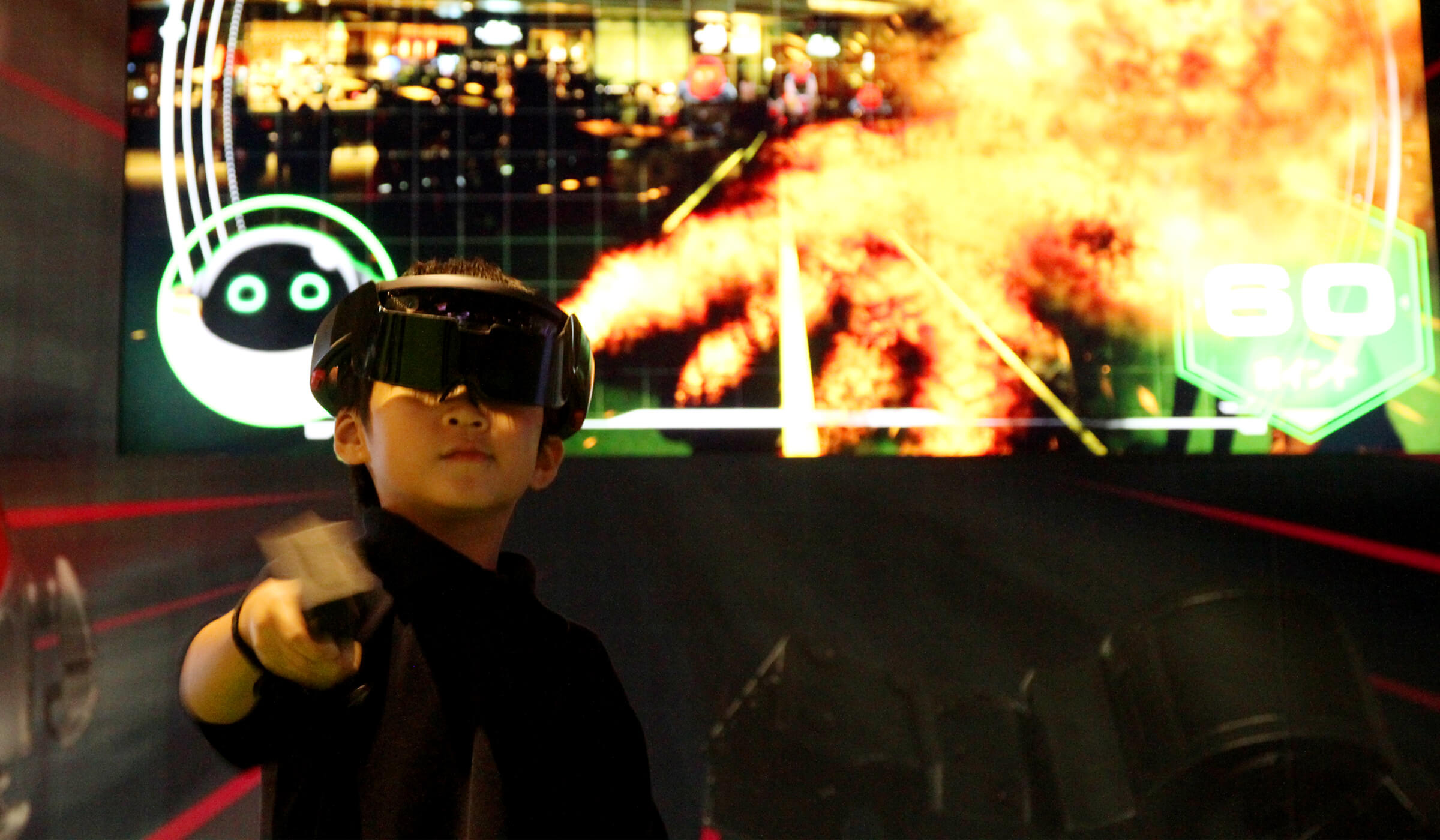 Planning and development for "NEXT ROBO BATTLE", a mixed-reality (MR) game that translates the world of Netflix Original "NEXT ROBO" (Next Gen) into reality. The game launched as a popup experience at Netflix Next Robo Family Park, a 4-day event from Sept. 14th- 17th, 2018 at Futako Tamagawa Rise Shopping Center.
Next Robo (en. "Next Gen") is a story set in a futuristic world filled with robots, where a lonely girl named Mei and a brave, faithful robot named 7723 become friends along their adventures.
Purpose
Incite a widened buzz for Netflix original "Next Robo", and invite others to enjoy the work by experiencing the look and feel for themselves.
Result
The event booth saw long lines of users from a wide range of ages waiting to try.
Target
Families with school-aged children.
Concept
To create a full on experience in the world of Next Robo.
Direction
Used MR device HoloLens to build an interactive space that recreates the world of a "future filled with robots". The game background is set as the Futako Tamagawa Rise event space, allowing you to collect points for defeating robots as they appear. The game utilized the full possibilities of MR, creating a rich, immersive game experience that goes beyond the possibilities of the real world.
"Design Points"
・Made so opponents appear in the special area of the event space
・Diversified difficulty level by making both mini robot and boss level stages
・Enhanced game play with custom sticks that act as swords used to defeat enemies in the game
・Created a UI design that integrates the HoloLens viewer seamlessly
・Boosted game experience with immersive visual and sound effects
・Created a special display monitor so bystanders can watch gameplay live
CREDITS
[NEXT ROBO BATTLE]
Creative/Art Director

Yuto Nakamura(MARUKAJIRI)

Creative/Technical Director

Toshiyuki Hashimoto(aircord)

Technical Director/Hardware Developer

Osamu Iwasaki(aircord)

Designer

Yuto Nakamura/Yuta Kobayashi(MARUKAJIRI)

Hardware Developer

Tomofumi Yoshida(aircord)

Visual/System Developer

Takeshi Doi(aircord)

System Developer

Takeshi Doi(aircord)

Motion Graphic

Shinya Sato

SE Composer

Ryota Miyake